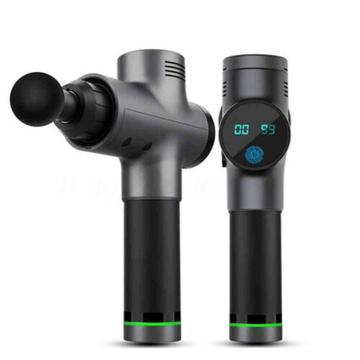 RELIEVE. RECOVER. REPEAT.
A MASSAGE THERAPIST IN THE PALM OF YOUR HAND.
Only this advanced percussive technology will endlessly provide penetrating yet quiet, deep muscle therapy, unlike anything you've ever felt. Originally designed for professional athletes and the military, this device will relieve the tension, stress, muscle pains and provide other endless benefits to your day to day life. 
★ ★ ★ ★ ★
I Love It!
"I have severe thigh pain and tightness after my jogging. My friend recommended to use massage gun. I did some research and decided to buy this one because it was cheaper than other similar ones . I was kinda of worried about its quality but it turned out to be a great buy. It is powerful but adjustable with 20 speed. It relieved my soreness after 5-10 minutes use. Small size, portable, and lightweight. I love it."
Courtney A. - Fort Lauderdale, FL
3rd ANNIVERSARY CELEBRATION, LAST DAY PROMOTION!
🔥We are going to sell out 100 items at the lowest price at $129.99
🔥Later on, the rate will be reset to its original  price at $399.99
THIS PERSONAL HANDHELD MASSAGER GUN IS READY FOR YOU!
BENEFITS OF USING THE SIMPLEE™ GUN
Enhance Performance ✓ 
A deep relaxing massage after training has been shown to increase energy and performance by 2-5%.
Naturally Relieves Pain ✓

Percussive technology will give you the ability to relieve your pain and soreness within 30 seconds. A great alternative to consuming unhealthy and harmful substances.
Speeds Up Recovery ✓

Train harder and more often. Using the Theradrill right after training repairs micro-tears and reduces lactic acid buildup meaning less soreness and improved recovery times.
Relieves Muscle Knots & Tightness ✓
Deep percussive technology increases blood flow loosening painful muscle knots and gives the ability to target muscle groups that were used intensely to prevent next-day soreness.
Relieve Stress ✓

When you're stressed, your muscles tighten in response. Studies show that a deep tissue massage after a long day will release muscle tension and rebalance your hormones also resulting in better sleep.
Save Money ✓

Skip expensive trips to massage sessions and chiropractor appointments. The Simplee™ Gun uses a rechargeable lithium-ion battery that has a battery life of 4-6 hours making it your own personal take-home masseuse for life.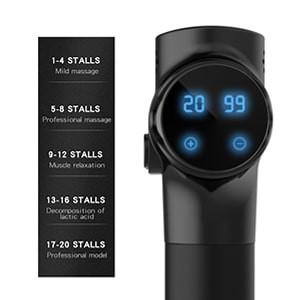 20 SPEEDS
The Simplee™ Gun massage vibrates quickly every minute,it truly feels like your muscles are being medically treated by a professional massage. The intensity is adjustable. There are twenty-speed levels, which allow you to change up the pressure and speed as you need.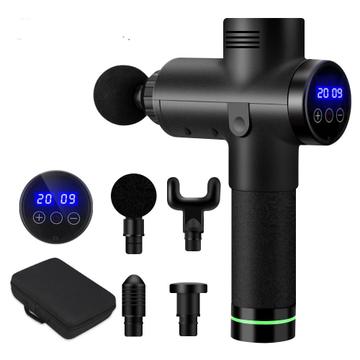 4 APPLICATIONS FOR FULL-BODY MUSCLE MASSAGE
The Simplee™ Gun comes with 4 applicators for full-body muscle massage. Ball Shape for bulk muscle groups, like waist, back, buttocks, thighs, calves; Point Shape for deep tissue massage, precise massage; Flat Shape for muscle relaxation, muscle plasticity; Folk Shape for massaging the neck, spine, and Achilles.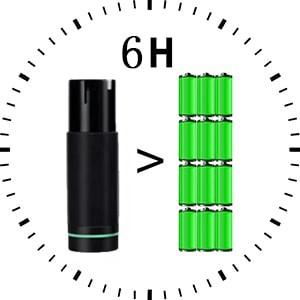 LONG BATTERY LIFE
The massage gun is equipped with a Lithium-Ion rechargeable battery. Power a week's worth of workouts with up to 6 hours of massage per charge.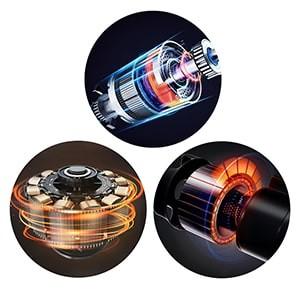 BRUSHLESS HIGH-TORQUE MOTOR
With Unique Quiet Glide technology and 24V Brushless high-torque motor, the working noise is only 10 dB. Let you enjoy your massage time smoothly and comfortably.
SPECIFICATIONS 
Charging Voltage: 110-220 V

Working Time: 4-6 Hours
Charging Time: 2-3 Hours
Battery Capacity: 2500 mAh
Vibration Frequency: 1300-4600 rpm/min
PACKAGE INCLUDES
1   Massager gun

1   Flathead attachment
1   Spiral head attachment
1   Globule head attachment
1   Forked head attachment
1   User's Manual
1   Charger
1   Portable Carry Case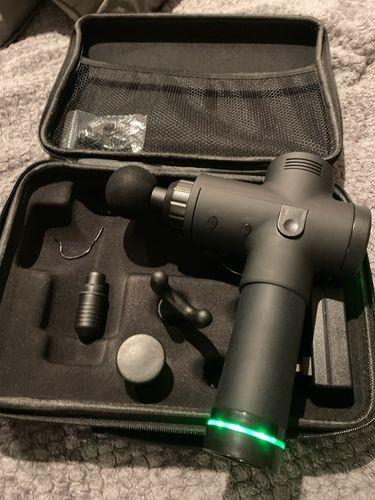 ★ ★ ★ ★ ★
"I saw my trainer used percussion massage on my friend's painful arm. It gave him relief. So I decided to buy one for myself. After comparing different brands and models, I chose this one for the features and price. I am surprised when I got it because it's a portable set as the picture shows. I like things organized. It works very well with targeting areas especially the back pain. It is reachable now with the ball massage head on. It's also quite while working. It makes me feel relax and comfortable. I am happy with this purchase."
Chris P. - San Jose, CA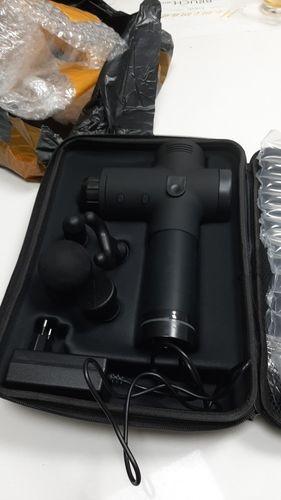 ★ ★ ★ ★ ★
"I am a tai chi instructor. This is the 4th massage gun I've purchased. I kept one and gifted the other three to my tai chi students. Many of my students are older and deal with a lot of aches and pains. That's why they enjoy gentle exercise like tai chi. I am excited to give them something additional to help. This gun has been the best one I've bought So far. It is quieter. It has a smoother, less abrasive feeling when it is massaging. It looks cooler. One of the heads it comes with is unique from the others I've bought so far. I highly recommend this gun to help with mobility and an active lifestyle."

Phyllis W. - New York, NY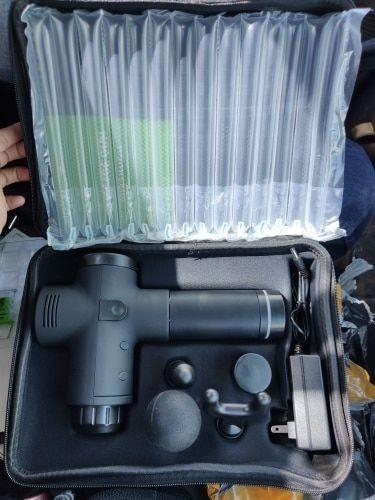 ★ ★ ★ ★ ★
"My husband and I are both professional Licensed Massage Therapists. We work with a different brand of massage gun at our job. I bought this for my husband for his birthday in hopes it would be "sufficient" for when we aren't at work and able to use the other brand. Well, we are both SUPER pleased with this purchase! It is pretty quiet while still delivering a powerful percussive therapeutic application. We have already used it multiple times to help each other with aches and pains and it has been tremendously helpful. I have already recommended this product to others I know!"

Gabriela W. - Austin, Texas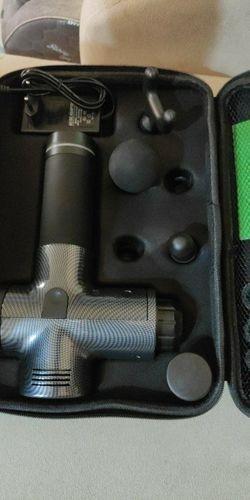 ★ ★ ★ ★ ★
"I work on my feet all day as a pharmacist, so amongst other things lower back pain is a real thing. My coworker said she got a massage gun and said it does wonders. Instead of paying $1,000 for massage chair, I tried this. It is the real thing! Lots of attachments as seen and in the manual it explains which one works best for which muscle group. I used the large ball for my lower back, at a setting of 10, it provides very powerful/strong beats/vibration."
Laurie P. - Montgomery, AL
CERTIFICATES OF COMPLIANCE
ORDER YOUR SIMPLEE™ GUN WITH CONFIDENCE AND FEEL THE DIFFERENCE
00

Days

00

Hours

00

Minutes

00

Seconds
Zipify Pages is an ecommerce landing page and sales funnel builder that seamlessly integrates with your Shopify store. Now publishing high-converting landing pages and sales funnels is as easy as just a few clicks. After selecting a template, it's easy to customize it to fit your store by using our drag-and-drop editor.
Over $500 plus massage guns available to you every day, in your hand TODAY for only $129.99

And for a limited time only, you get FREE SHIPPING
Important!
Before you order your new Simplee™ Gun please make sure you use the drop-down above the BUY NOW button to select the proper plug type.
(US, UK, EU or AU)
SAY NO TO TIGHT MUSCLES, SORENESS, STIFF BACK, AND NECK!
PRODUCT SPECS

Powerful high-torque motor featuring Quiet Glide™ technology
20-speed settings deliver up to 3200 percussions per minute
Rechargeable lithium-ion battery (Up to 4-6 hours of use per charge)
4 interchangeable head attachments
Lightweight (2.5 lbs), ergonomic design

CHARGING YOUR DEVICE
Fully charge the battery for up to six hours before first use either attached or detached from the device.
To charge, connect the DC end of the supplied 24V adapter to the battery's charging port and plug AC side cable into a wall outlet.
LED band on battery lights pulsate to show battery level and indicate active charging.
With the battery attached, LED lights on the unit flash to show battery level and indicate active charging.
A full charge is indicated when all LED lights stop flashing and remain fully illuminated.
Battery may be recharged at any time and at any time and at any battery level.
It is not recommended to fully deplete the battery to the red LED level.
The average run-time is 2+ hours depending on speed level and pressure applied during use.
CLEAN, CARE AND TRAVEL
Use a slightly damp towel to clean the device and dry with a soft cloth.
For storage or travel, remove battery and store in supplied carton box or Simplee™ Gun Case.
Travel Friendly- TSA approved as carry-on, light & compact.
WARRANTY
If within one year from the date of purchase, this product fails due to a defect in material or workmanship, Simplee™ will repair or replace the product, or necessary components, free of charge.
THIS WARRANTY EXCLUDES
(a) damage caused by accident, abuse, mishandling, or transport;

(b) units subjected to unauthorized repair;
(c) units not used in accordance with Simplee™ Gun care instructions;
(d) damage exceeding the cost of the product;
(e) deterioration of the delivered product resulting from abnormal storage and/or safeguarding conditions on the client's premises, and
(f) failure to provide the dated proof of purchase.

SAFETY INSTRUCTIONS
Use only on a dry surface of the body over clothing by lightly pressing and moving across the body for approximately 60 seconds per region.
Use The Simplee™ Gun only on the body's soft tissue as desired without producing pain or discomfort.
Do not sure on the head or any hard or bony area of the body.
Use only the applicators that provide the best-desired effect.
Bruising can occur regardless of the control setting or pressure applied. Check treated areas frequently and immediately stop at the first sign of pain or discomfort

.

Keep fingers, hair, or any other body part away from the shaft and backside of the applicator as pinching may occur.
Do not place any objects into the ventilation holes of The Simplee™ Gun.
Do not immerse in water or allow water to enter the ventilation holes of The Simplee™ Gun.
Do not drop or misuse the Wavegun.
Only recharge with supplied 24VDC Simplee™ Gun Charger
Do not tamper or alter The Simplee™ Gun in any way.
Never leave The Simplee™ Gun operating or charging unattended.
SHIPPING & DELIVERY
All orders are expertly packaged, prepared, and shipped within 3-5 business days of ordering. We offer FREE shipping worldwide and the typical delivery time frame is between 12-20 business days. US orders are shipped by e-packet, which is a US Postal Service product. Depending on your location, you may receive items much earlier.
All orders are shipped with the tracking number so you can track it every step of the way! Occasionally, packages may be faced with delays beyond our control such as customs or postal delays.

REFUNDS
If for whatever reason, you decide you are not satisfied, you can easily and quickly contact our helpful customer support (conact@simpleebeautee.com) to get an easy refund. We just ask that you send the product back to our warehouse!

© The Simplee™ Gun. All Rights Reserved.
HEAR IT FROM OUR CUSTOMERS
FREE SHIPPING
Get free shipping on every order over $40
SECURE PAYMENTS
Fully secured SSL checkout